Hi There! After last weeks weigh-in I headed up north to visit my folks for Christmas. I knew it was going to be a challenging week so my goal was to save all of my weekly points for Christmas eve and Christmas day. So, I focused on eating well Monday to Thursday. Christmas was a ton of fun but I ate way too much! I'm pretty sure that I still didn't eat as much as I would have last year simply because I eat less in general. The chex mix and fudge really got me. But they were oh so tasty!
On Sunday I got back on track until dinner time and then I went a little crazy. On Monday we woke up early and flew into LA, picked up the car and started the drive to Las Vegas! We stopped for lunch in Barstow and I did okay, not great, but okay. Once in Vegas we met up with all of my family from my Dad's side and headed to the buffet at Excalibur. Thankfully my dad paid so I didn't feel the need to "get my money's worth." I tasted pretty much everything but I really tried to just take a tiny taste of a bunch of different things. That night my cousins and I went for a walk along the strip and if you are familiar with Vegas we walked from the Tropicana up to the new city center, back down to the Tropicana and then up to the other side of the strip. It was a lot of walking and I only consumed one adult beverage! Much better than if we had gone to a bar.
On Tuesday we went out to my grandparents house about an hour north. I made the mistake of not eating breakfast so when I got there at lunchtime and they put out chips and dip I was helpless. For dinner we had ham and salad and rolls, not too terrible. Then my grandma surprised me with a cake as a congratulations for finishing my PhD. I ate a piece and it was pretty darn tasty. I headed back to the strip and then around 8:30 we went for late dinner of pizza and beer. Tasty :)
On Wednesday I got Oatmeal at Starbucks which made everything so much better! For lunch I did pretty good eating leftover ham and rice. For dinner my husband and I went to a little Italian place off the strip where I had pasta in meat sauce but I could barely even eat a third of the serving. My downfall was the all you can drink house wine. The good news is that we walked there and when we left it was sleeting and so we ran to get cover. Then we wanted to go to City Center for gelato so we went through the Bellagio to stay out of the rain but I think it added half a mile to our walk :)
Today we went back to the 'Buck for breakfast of oatmeal and hot tea and then headed to the Sahara for $1 blackjack. I walked out 2 hours later $16 richer! I love blackjack. Then we headed to lunch where I did manage to leave some food on my plate. After lunch we headed home. Thankfully we were not heading from LA to Vegas because it was gridlock on that side of the freeway for nearly the entire 280 miles! We got home and got unpacked and now I'm making my grocery list for tomorrow.
I'm going to start the day tomorrow with a Weight Watchers meeting, I'm a little nervous to see what the scale says but there's no point waiting since I've already paid my monthly fee so I might as well go and get back on track ASAP rather than wait until Monday.
Stay tuned for a weigh-in and goals for 2010 post tomorrow.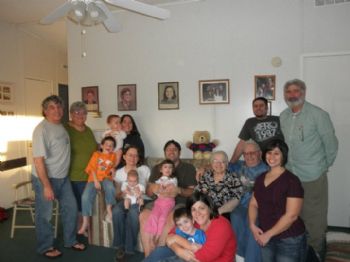 My awesomely amazing family!