Starting weight: 213
2 Weeks ago: 204.8
Today's weight: 203.0
Difference: -1.8
Total Change: -10.0
I feel on top of the world. Today I weigh less than I have since probably October of 2008. I feel like I'm finally on top of this weight loss thing! So, let's recap some things that seem to be working for me...
...I have so much less stress in my life now that I have a new job. Not just any job, the job that I've been going to school for 10 years to do! This just relieves a lot of worry and anxiety for both myself and my husband.
...I started taking walks with the baby that I take care of 3 days a week. She's only 3 months old so I wasn't sure how she would do, especially knowing that she hates her car seat. She did awesome though, she seemed to really enjoy it. On Monday we did 30 minutes, yesterday 45 minutes. It felt great to be active.
...I finally feel like I have a little bit of peace in my life. I'd say control but I know I'm not in control, God holds the control. I've been in a pretty chaotic place for the last year and a half. After being married for 2 weeks my husband moved to California while I stayed in Indiana to sell our house. The house never sold but I moved out in January anyway. We went through 2 sets of renters and almost foreclosed, I've gone through several part time jobs. It's been stressful but now, I feel like we are finally getting back on track and seeing why God brought us out here. It feels really good, like a little shot of anti-depressent!
...I have tons of cute clothes in boxes that are too small for me but that I need to be able to wear to my new job so that I don't have to buy a whole new wardrobe and trust me, I can't afford a whole new wardrobe!
...I desperately want to be able to wear my wedding ring when school starts. Over the summer my husband had to pry it off because it started to hurt my finger. Right now I wear an inexpensive fake ring as a placeholder but I keep trying on the real ring every morning just to see and it's getting closer.
...I have to buy this dress: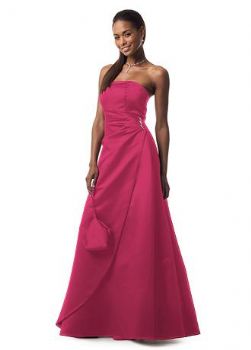 to wear in a May wedding. I'm already going to feel uncomfortable in a hot pink pouffy dress, I don't want that to be made worse by being the fat bridesmaid! I need to order the dress by March so I'm working towards ordering a smaller size!
So, I have some good motivation. I finally feel at peace with all of the crazy changes in my life. I'm trying to stay active. Yeah, life is good right now :)